Fat Robin™ - Soft Nutritious Bird Food
Regular price
£5.91
Sale price
£5.91
Unit price
per
Ideal for

Blackbird, Song Thrush, Robin, Wren, Dunnock, Starling, Collared Dove
One of our most popular and unique soft foods blended with berry flavoured suet pellets for Britain's favourite garden bird - the Robin.
Also contains ever-popular Sunflower Hearts plus vegetable oils and raisins. Feeding this bird food will soon prove that a Robin isn't just for Christmas. 

*Please note this product includes raisins and can be toxic to dogs.

Key Ingredients: Raisins, Berry Pellets, Peanut Granules

Please note: Bird seed recipes may change without notice in line with crop availability, but we'll always select a suitable seed replacement.
Share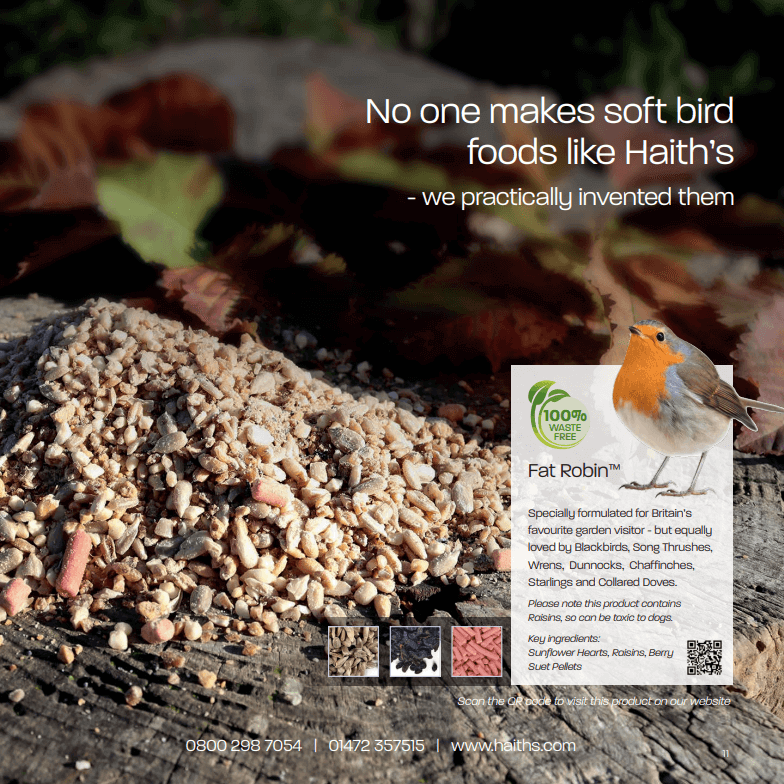 Great
I find all the soft bill birds love it
Hello, thank you for the review of our Fat Robin Softfood. It's great to hear that your birds are loving this food
Robins Delight
This review is sent on behalf of my robin family who frequent my decking every day to get their breakfast along with blackbirds numerous tits and other small birds who enjoy their food without having to fight with the numerous Woodpeckers (squirrels who try to fool me into thinking they have feathers)and other larger birds who love all the feed I buy from haiths
Many thanks for the great review. We are pleased your Robins are enjoying their food.
Not only Robins!
This is a particularly tempting soft food that my garden birds love. It seems to attract more Robins than I had before.
I'm very happy with this purchase.
Hello Victoria, we're glad that the Fat Robin is attracting more Robins into your garden. Thank you for the review.
Perfect!
"Keeps my 3 Robins in my garden very happy!"
Top Of The Pops
"Great product - it looks almost good enough for humans to eat - but I think you'd have to fight the birds first - they love it. It looks wonderful too, the black birds adore it but so do all the other birds in the garden."