Huskfree Advance™ Bird Food
Regular price
£4.99
Sale price
£4.99
Unit price
per
Ideal for

Blackbird, Song Thrush, Robin, Wren, Dunnock, Great Tit, Blue Tit, Coal Tit, Long-Tailed Tit, Goldfinch, Greenfinch, Chaffinch, Siskin, Starling, House Sparrow, Collared Dove, Great Spotted Woodpecker
Spend less time clearing up after the birds and more time watching them!
No mess, no waste bird food recipe. 100% edible. High-energy bird seeds. Won't germinate beneath feeders. Enriched with a natural source of calcium.
We're so confident that there's no waste with this super high-energy, Sunflower Heart rich wild bird food that we offer a full money-back guarantee if you and your birds aren't 100% satisfied with it. So if a clean patio and husk free lawn is as important to you as feeding a high-energy bird food, this is the ideal product for you - with the added advantage of no seed germination beneath feeders.

Key Ingredients: Sunflower Hearts, Pinhead Oatmeal, Oystershell Grit

Please note: Bird seed recipes may change without notice in line with crop availability, but we'll always select a suitable seed replacement.
Share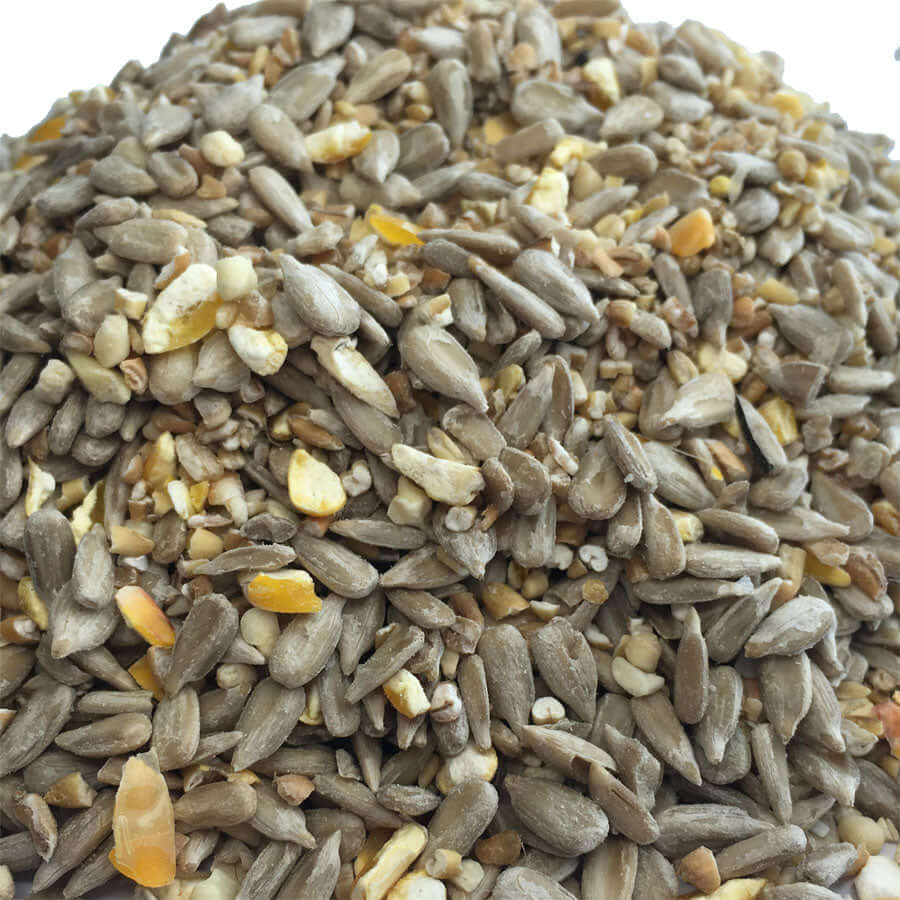 Huskfree advanced bird food
This food is fantastic. I have a huge range of birds which enjoy it. Sparrows, chaffinches, blue and great tits, woodpeckers and nut hatches to name a few.
I have so many birds visiting that I have to fill my two feeders every day. Plus I put it onto the floor for the e bigger birds.
Hello Janet, thank you for your review. That is a wonderful collection of wild birds visiting your garden, it must be lovely to see.
Just ask my garden birds
I fill up three of the 4 feeding port feeders EVERY DAY, and the small birds flock to them, eating and chirping. They even sit under the feeders and pick up the spills from the other birds. As do the pigeons. My garden is full of birdsong, and squabbling. The food is AMAZING, there's no mess, and no unwanted growth from the seeds. Thank you very much . Photos a bit blurry. I didn't want to scare them off.
Hi Kathy, many thanks for your lovely review. We're so glad to hear your garden birds love our products.
Favourite bird food.
Wonderful mix which all my birds love and fight over as soon as I put it out ! Definitely the favourite and I would not dream of changing . I always recommend Haiths to all
My friends as very trustworthy and great value for your money. I would not go anywhere else.
Hello Mary, thank you for this wonderful review. We are so glad to hear that your garden birds love our Huskfree Advance, I will be sure to share your kind words with the team.
Husk free
Absolutely fab birds eating lots of it ,no mess at all
Hello Ann, thank you for your review. That's good news thanks for letting us know
Birds favourite food
The birds love this food. I have lots of different birds and all love it. They eat it from the bird table and the feeder. Doesn't make any mess.
Thank you for your review we are so pleased the birds like this lovely mix. We appreciate your feed back.