Regular price

£12.99

Sale price

£12.99

Unit price

per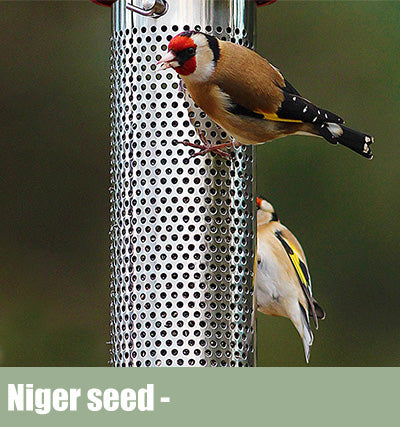 Why Choose a Niger Seed Bird Feeder?
Niger seed, a favourite among goldfinches, is a fantastic choice for bird feeders. High in oil, it provides essential energy and nutrients for these beautiful birds, while the small size of the seed means less waste and mess in your garden.
Keeping pests away
Due to the small size and high oil content, niger seeds do not appeal to squirrels as much. Therefore, using a niger seed bird feeder can help deter squirrels from raiding your bird feed, leaving more for the birds you're aiming to attract. Additionally, many niger seed feeders are designed with small feeding ports, for example our clinger niger seed feeder, that are perfectly suited for small birds like finches but are difficult for larger creatures like squirrels, doves or rats to access.
Our Range of Niger Seed Feeders
Our range of feeders includes classic tube designs, ideal for hanging from a tree or a bird table, and models with trays to catch any loose seeds. Designed to be sturdy, practical, and easy to clean, our niger seed feeders cater to the feeding habits of goldfinches while withstanding the elements.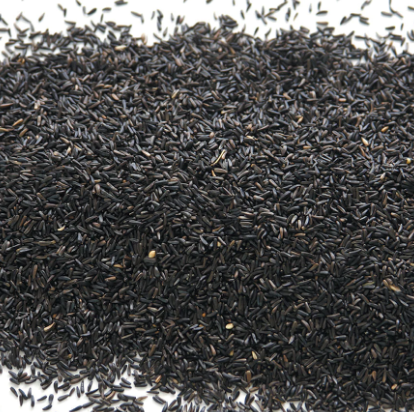 Niger Bird Seed Feeder Frequently Asked Questions
Do I need a special feeder for Niger seed?
Yes, it's always best to choose a bespoke feeder to hold niger seeds. Niger seeds are tiny and require a feeder with small holes to prevent waste and discourage large birds that may deplete the feed quickly.
What eats Niger seeds?
In the UK, garden birds such as goldfinches, siskins, and redpolls are particularly fond of niger seeds due to their high oil content.
Which UK garden birds like Niger seeds?
Niger seeds are a favourite among finches, particularly goldfinches and siskins. Redpolls, another type of finch, also enjoy niger seeds.
Do Robins eat Niger seeds?
Robins tend to prefer insects, fruits, and other larger seeds. They may not typically eat niger seeds as the seeds are very small.