Regular price

Sale price

£16.99

Unit price

per

Regular price

£9.99

Sale price

£11.99

Unit price

per

Regular price

£7.99

Sale price

£7.99

Unit price

per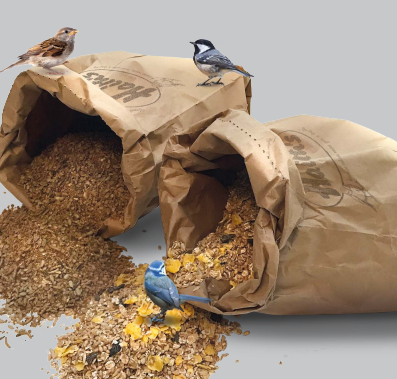 Understanding the Importance of Soft Foods for Birds
Birds have diverse dietary needs that change with seasons, their life stages, and local food availability. Soft foods like our signature Softfoods™ provide essential nutrients and are particularly favoured by a variety of species including Blackbirds, Robins, and Starlings. Learn more below about why soft foods are essential.
The Challenge of Outdoor Feeding
While it's natural to scatter soft and live foods on the ground, this method has its drawbacks. Weather conditions can easily ruin the food, and ground-feeding can also make our feathered friends vulnerable to predators. A dedicated feeder, like our Robin & Small Bird Feeder, offers an ideal solution, providing protection from weather and a safer feeding spot away from potential threats.
Adaptable Feeding Solutions

Different birds have varying preferences when it comes to feeding. The Mesh Hanging Wild Bird Feeder Tray provides a versatile feeding platform, suitable for everything from seed mixes to suet pellets and live foods.

Celebrating Our Feathered Icons

Robins hold a special place in many hearts. Show your appreciation and cater specifically to their needs with the I Love Robins Feeder, designed to be the perfect dining spot for these beloved birds.

Accessories for Convenience

A good feeder becomes great with the right accessories. Looking for a way to securely and stylishly hang your feeders? Keep an eye out for our Curved Bird Feeder Bracket!
Bird Feeders for Soft Foods & Mealworms FAQs
What are Soft Foods™?
SoftFoods™ are a blend of soft and live foods specially formulated to meet the dietary needs of certain bird species. They contain essential nutrients and are preferred by birds like Blackbirds, Robins, and Starlings.
Why use specialised feeders for soft foods and mealworms?
Soft foods can get soggy and spoil quickly when exposed to the weather. Specialised feeders protect the food from rain and snow, ensuring that birds get fresh food. They also provide a safe feeding spot away from predators.
Can I use these feeders for other types of bird food?
While these feeders are designed for soft foods and mealworms, many of them, like the Mesh Hanging Wild Bird Feeder Tray, are versatile and can be used for seed mixes, suet pellets, and more.